9:50 PM: Jerry is an IRONMAN! He's greeted by his wife Jenny at the finish line after a grueling 140.6 miles — and he's still smiling. Congratulations, Jerry!
4:00 PM: Bike course finished — on to the run!
2:20 PM: 100 miles so far today — Jerry is nearing the end of the bike course.
2:00 PM: Jerry is on mile 93 of the bike course, averaging about 17.5 mph. He'll start his marathon in about 40 minutes. Go Jerry!
10:13 AM: Jerry is about 27 miles into the bike portion and maintaining an average speed of about 19mph. We'll see him at run transition in about 3 hours!
8:34 AM: Jerry has finished his swim and is on to the bike — Go Jerry!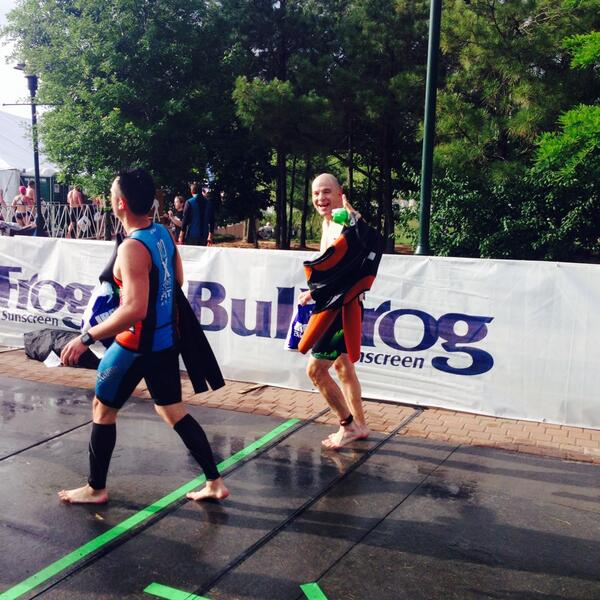 About five years ago, Jerry Griffin was overweight.  His company had a biggest loser competition and he was inspired to participate.  To lose the weight, he started running.  He lost so much weight and felt so great, running became his passion. He lost 40 pounds, an incredible feat, but came in second in the competition!
In 2012, Jerry and his wife Jenny decided to volunteer and support their friend who was participating in Memorial Hermann IRONMAN Texas.  It was a magical experience and he caught the triathlon bug.  The only problem was he wasn't a strong swimmer. He enlisted the help of his friend Mark, a strong swimmer himself, who became somewhat of a coach of Jerry's. Jerry started small with sprint triathlons so he could build up his confidence in the water.  It worked.
When Jerry decided to go for a half- and full IRONMAN, he enlisted the help of Kimberly Gandler, a biomechanist at the Memorial Hermann IRONMAN Sports Medicine Institute, who helped him adjust his training regimen so he could compete at his highest level of performance in the run and bike portions of the race.  At first, his goal was just to survive the swim and the bike, but after working with Kim and Mark, he feels confident he can meet the challenge of completing the grueling 140.6 mile course.
Jerry has been fortunate enough to have incredible support from his family and friends, several of whom are volunteering at Memorial Hermann IRONMAN Texas this year. His cheering section, including his wife, his parents, and Mark, will be wearing red shirts with the words "Just Keep Smiling" – a reminder to always keep a positive attitude.
Follow @memorialhermann on Twitter all day Saturday for updates on Jerry's progress in Memorial Hermann IRONMAN Texas 2014!
For more information on Memorial Hermann IRONMAN Sports Medicine Institute, visit http://ironman.memorialhermann.org/