10:40 PM: In 2013, she was volunteer captain of the year. Tonight, however…
Congratulations, Michelle. You are an IRONMAN!
4:30 PM: Michelle is on the run!
2:00 PM: Michelle is still going strong, with about 30 miles to go on the bike — she'll transition to the marathon in about an hour!
10:17 AM: Michelle is about 30 miles into the bike course, and is maintaining an average speed of about 18 mph. We'll see her at run transition in about 3 hours!
8:24 AM: Michelle has finished her swim and she's on to the bike — before long she'll see her friends from Outback Western Wear on the bike route! See her in the center of the photo below: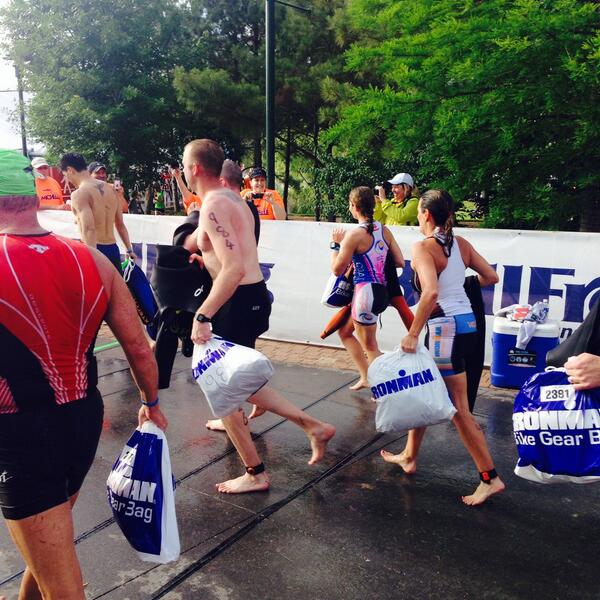 Michelle O'Rourke and her husband Chris run a shop in Magnolia, Texas called Outback Western World. Cowboy boots, hats, jeans — if you want to look like you're from Texas, this is the place for you. In 2011, Memorial Hermann IRONMAN Texas came to town — and the O'Rourkes found out that the bike course would travel directly in front of their store. Instead of worrying that the race could take away from their business, they embraced it with open arms. Memorial Hermann, after all, is very special to Michelle's family — her mother had worked for Memorial Hermann The Woodlands for 30 years before recently retiring.
Outback Western World asked to host an aid station along the bike course near their business, and IRONMAN gladly accepted. The O'Rourkes have been running an aid station team for 3 years now and they hold nothing back — misting stations for the athletes, a live DJ and snacks for the volunteers… they've become quite popular. So popular, in fact, that Michelle was voted 'Captain of the Year' in the volunteer awards in 2013.
When Michelle accepted her award, you would've thought she won an Oscar. During her "acceptance speech," she blurted out, "I'm going to be an IRONMAN in 2015!" As she sat back down, her husband muttered, "Hmm. Fire, Shoot, Aim, huh?"
Michelle began her IRONMAN journey right away — but early on, her trainer encouraged her to alter her goals. Instead of 2015, he suggested signing up for IRONMAN 2014 right away.  Ten months later, she participated in Memorial Hermann IRONMAN Texas 70.3 – and now, she's preparing for her first full IRONMAN. She's lost 20 pounds, is in the best shape of her life at 39 years old, and has gained a world of confidence.
We visited Outback Western Wear during their "Capping Party" – where they convert energy drink bottles to 'sports tops,' making it easier for the athletes to drink from them after grabbing them quickly. They entice volunteers to join and help with pizza, snacks, drinks, and a whole lot of positive energy!
Follow @memorialhermann on Twitter all day Saturday, May 17th, for updates on Michelle's progress throughout the race!
For more information on Memorial Hermann IRONMAN Sports Medicine Institute, visit http://ironman.memorialhermann.org/